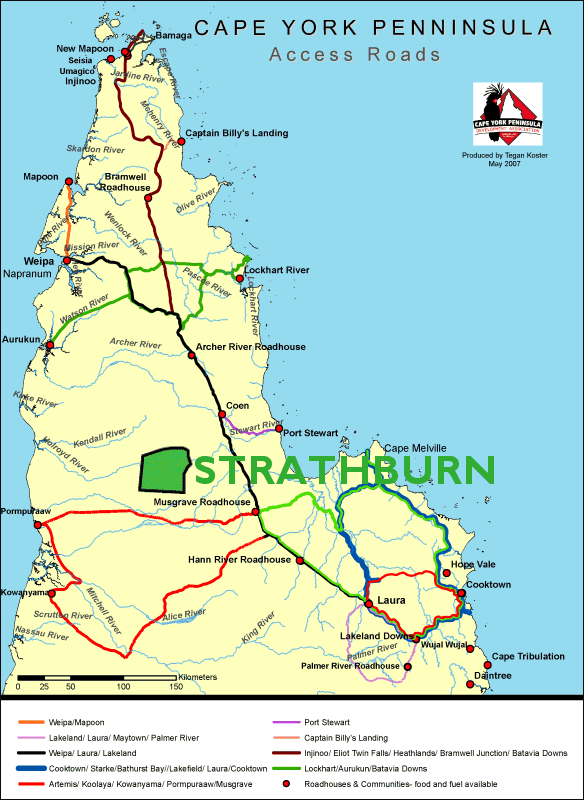 Strathburn Station is situated approximately 129 km North West of Musgrave, and 506 km North West of Mareeba, North Queensland.
Pastoral Holding: 246,049 ha (608,000 acres, or roughly 50km by 50km – or 30 miles by 30 miles – in size).
For inquiries about Strathburn Station unrelated to the safari operation, please email strathburnstation@gmail.com or call 0414 703 471
It's easier to get to the centre of Cape York – and the main roads are much better than you might think. First, pretend you are going to Port Douglas and fly to Cairns. Then, rent a 4WD and drive to Mareeba.
Mareeba is about 40 minutes over the range from Cairns. Then, it's about two hours to Laura, then two hours to Musgrave Roadhouse, then two hours to Strathburn.
In summary, Strathburn is a 550km drive up the main Peninsula road from Cairns via Mareeba, 80% of it sitting on or near the 100-110kph limits. All up, seven hours of driving – give or take – plus your stops along the way.
To hire a 4WD vehicle, try 1300 TruckHire on 1300 878 254. 4WD-hire availability sometimes is limited so please book early.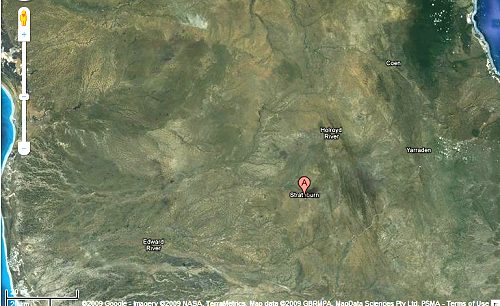 Click to check out Strathburn via satellite
CAUTION: Strathburn is never quite as green as it appears in some of the photos. Many of photos and details on this website were reproduced from the "glossy" used to market Strathburn before its (failed) auction in July 2007. The photos were taken early in 2007, towards the end of "The Wet". As with much of northern Australia, Strathburn is very wet in "The Wet" and very dry by the time drenching monsoonal rains arrive each year, typically in December.