By Clint Picking
Published in "Australian Bowhunter" – September 2000
IT'S OFF TO STRATHBURN to hunt FNQ style, but this time the elements were not as kind!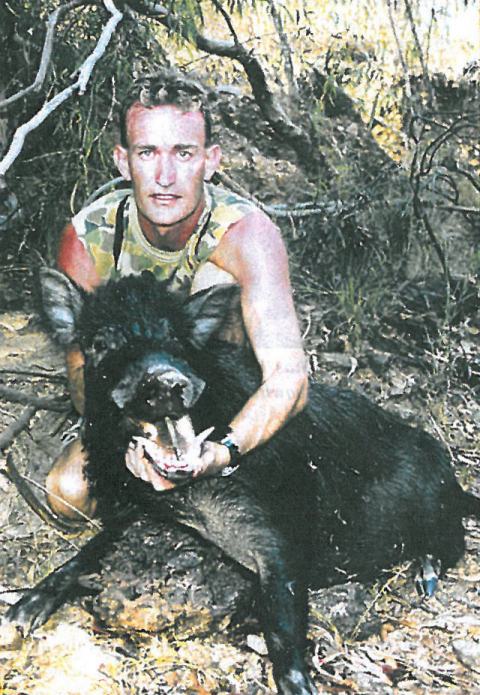 The last time I hunted Strathburn Station, Mother Nature and I were a team. This year that grand old lady was playing for the other side. Choosing to hunt earlier in the dry, a near record wet last season and swirling winds all combined to make the week a lot of hard yakka. Not that I'm complaining though.
As the familiar sight of the homestead appeared in the distance, we realised that our long awaited trip had just begun. Four eager bowhunters in Nigel Thompson, Brett Vercoe, Lee Dalli and myself scrambled off of the mail plane onto terra firma anxious to get into the scrub.
I was keen to get back to my favourite creek that last year had hunted extremely well. Being a basically dry sandy creek with scattered pools, it was hog heaven. This time around it was almost unrecognisable, with running water cascading over small waterfalls.
Brett and I headed downstream to try our luck, which we were soon to discover was in short supply. Apart from a dingo in the wrong place at the wrong time. Nigel and Lee had a similar story to tell upstream.
A nearby billabong however, really turned it on with Saratoga, Sooty Grunter. Spangled Perch and Archer fish all attacking every lure we could throw at them. Great stuff.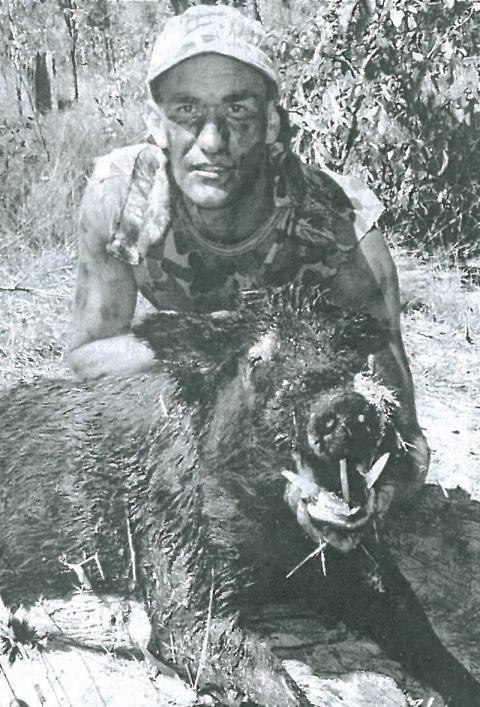 On the way to another creek Nigel was to draw first blood. He had noticed a nice boar kipping in a dry creek bed from the cab of the landrover while the lookouts on the back were busy " flapping their gums." Nigel grabbed his Hoyt Magnatec while Brett grabbed his video camera. Lee and I remained on the back of the truck with front row seats to watch the show.
The boar jumped from his bed and turned to face Nigel, long enough for his blackstump tipped 2219 to disappear into the hog's chest. A short follow up and the boar was his. At 27 4/8 points it's Nigel's best boar to date.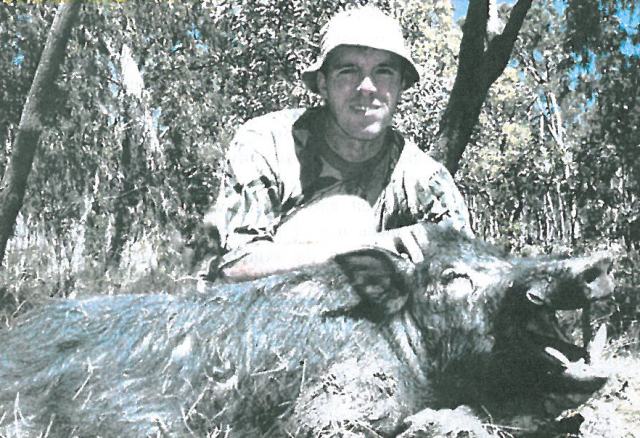 Brett and I continued to follow this creek while Nigel caped out his trophy. We saw five good boars in the next kilometre or so. Mother nature played her hand in the final stage of each and every stalk, leaving us looking for answers. We gunned the vehicle to another creek that I'd had good success with, which again turned up barren.
Back at the homestead we studied the toppo map for more ideas. Word of activity at a nearby brumby carcass got our attention, so we checked it out early the next morning.
Brett and I went wide before cutting into the creek to make use of the prevailing wind. Nigel and Lee went to case out the brumby. Once we hit the creek we slowly headed back toward the carcass.
It was a very good looking creek and our hopes were growing. The twang on our nostrils was a sure sign we were close to the pig tucker.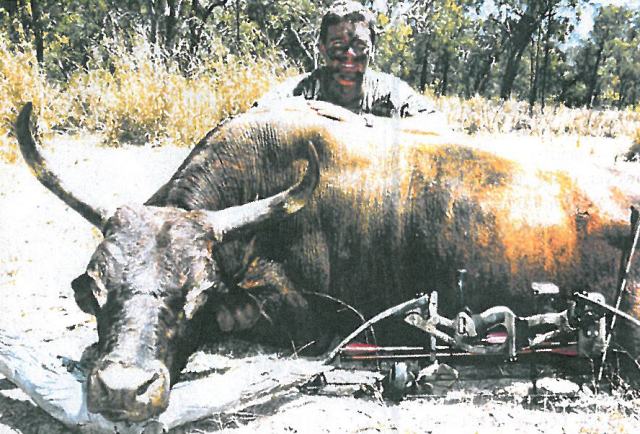 On the very next bend was what we were looking for. An old carrion muncher deep in slumber on his sandy bed. Brett manned his video while I made the shot.
Drawing back on the sleeping one I touched the release and watched as the 2315 with a 115 grain Blackstump penetrated bristle and bone before grinding to a halt in the sand. The boar made a mere fifteen metre before throwing in the towel. A broken tusk was a shame but a great trophy none the less.
That afternoon Nigel and I teamed up together and found ourselves on a well populated creek that fed into the Holroyd river. We were having zero luck fighting a cruel breeze.
As I rounded a bend I saw a bedded boar. He looked primed to "exit stage left". With no time to waste I quickly drew and took him near the short rib and punched through his heart. He didn't even get out of his bed. Just then I felt the fickle wind tickle the sweat on the back of my neck.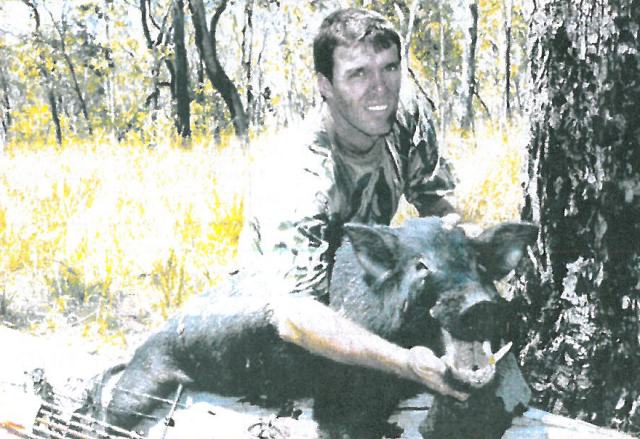 As we manoeuvred through the bush to another area a large scrub bull became the focus of our attention. We stalked through the maze of anthills before a clear shot presented itself. The video captured the arrow as it arced the thirty-five metres to the Bull, passing clean through both lungs. The Bull dropped in less than fifteen meters.
We propped the scrubber for the mandatory photo session before utilising the beast for pig bait on a nearby soak.
Lee and I decided to hunt an area usually dry at this time of year. After a lengthy walk we came across a small swamp being fed by an underground spring. It looked like a place that would produce the goods.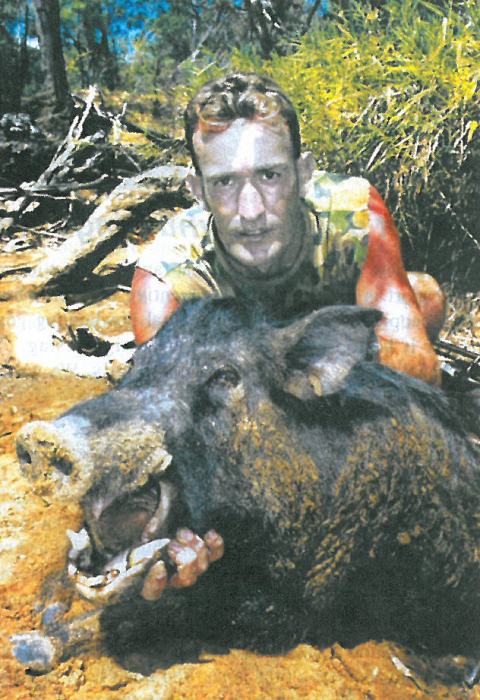 On full alert we slowly worked the swamp. A boar, heavily concealed by the long grass, broke cover and as is usual with the boars I've encountered up here propped at tweny five meters for a few fatal seconds.
I was already at full draw when he made his mistake and my arrow took him high in the chest. The boar spun around and headed for safer ground.
A good blood trail led us to a muddy wallow where a second arrow closed the deal.
After photos and jaw removal duties we resumed our slow coverage of the swamp. Almost immediately another good boar exploded out of the grass next to us.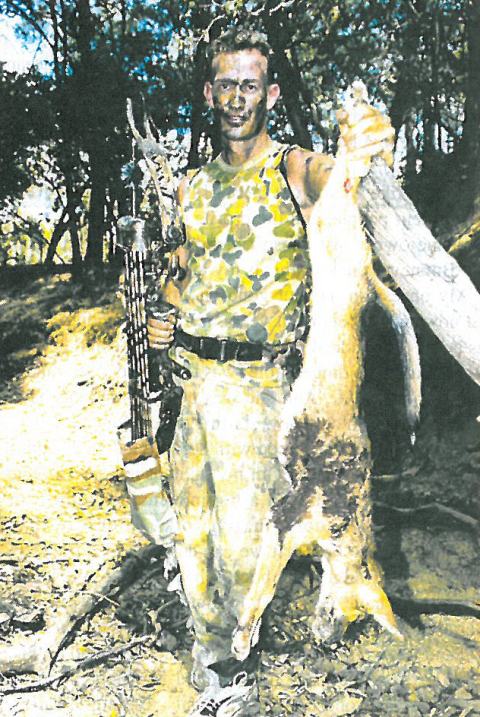 Once again the hog paused at about twenty five meters to justify his nerves. Lee, realising it was now or never, tried to make the shot from an awkward position. His arrow zipped underneath the lucky boar's chest.
Needing no more encouragement he vanished into the surrounding scrub.
Nigel and Brett had been hunting another area with Nigel shafting a good boar while it fed near a mud bath. Brett also got in on the action and grassed a nice boar. The hog had been laying in a creek bed facing him, and those blinking eyes had Brett well pegged.
With as little movement as possible Brett came slowly to full draw. Settling his fibre optic pin on the small area between the neck and shoulder, he touched off the shot. The deadly arrow was right on the money, and to top It off he was able to catch it all on video.
On our last day on Strathburn Brett and I hunted a long section of the Edward river that would normally be dry by now. We saw some really nice hogs, but on this day the breeze was especially wicked. Not one single stalk panned out to the finish. However we did get to see some amazing wildlife, including dozens upon dozens of crocs.
Late that day we happened onto a creek full of good fresh beds, and managed to get the drop on a decent hog still lounging in his bed. Brett was caught between a rock and a hard place and with no other option put the razor sharp broadhead right between the peepers.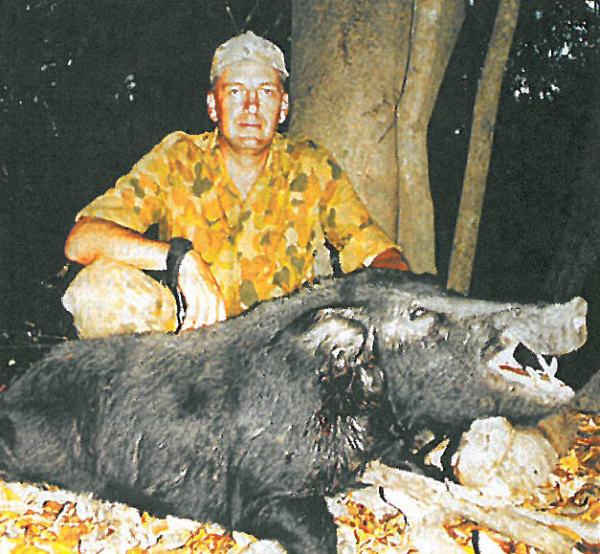 To our amazement the unicorn tried to make good his escape. I put an arrow through his chest from the bank of the creek which still didn't slow him down.
The tough old bugger then snapped Brett's arrow off against a small tree before taking off to parts unknown. Darkness beat us on the tracking job, but John found it a couple of days later while guiding some other hunters. He was a good hog too, around the 27 point mark.
Nigel spotted a nice Bull while he and Lee were headed to a good fishing hole. Nigel stalked in and put down his bull with a low chest shot from twenty five metres.
Our time here had come to an end and as the drone of the mail plane grew in intensity overhead we said our farewells to John and Sue, and vowed to come back and make peace with Mother Nature. Next time.